As far as legends go, Shepard Fairey is a pioneer—heavily respected in both the streetwear and street art worlds. Known for his large scale mural work, rebellious spunk and social awareness, Fairey is no stranger to controversy or criticism. His enthusiasm for his self-made position as lighting rod for social change is unorthodox to say the least. He's a real life Batman—with utility belt full of paint and a vendetta for societal corruption.
As an endless, influx of supporters formed a line inside the pop up at 136 Bowery for the launch of his "DAMAGED" mobile app which is a VR/AR version of his largest non-museum solo exhibition that took place last year, Fairey remained happy and enthusiastic while signing copy after copy of his latest manifesto, The Damaged Times (and any other items a marker could scribble on).
It's been almost ten years since his last museum show. It's taken nearly the same amount of time for people to recognize his artistic genius for more than self-promotional vandalism. He later told me he's just happy that people care enough to show up.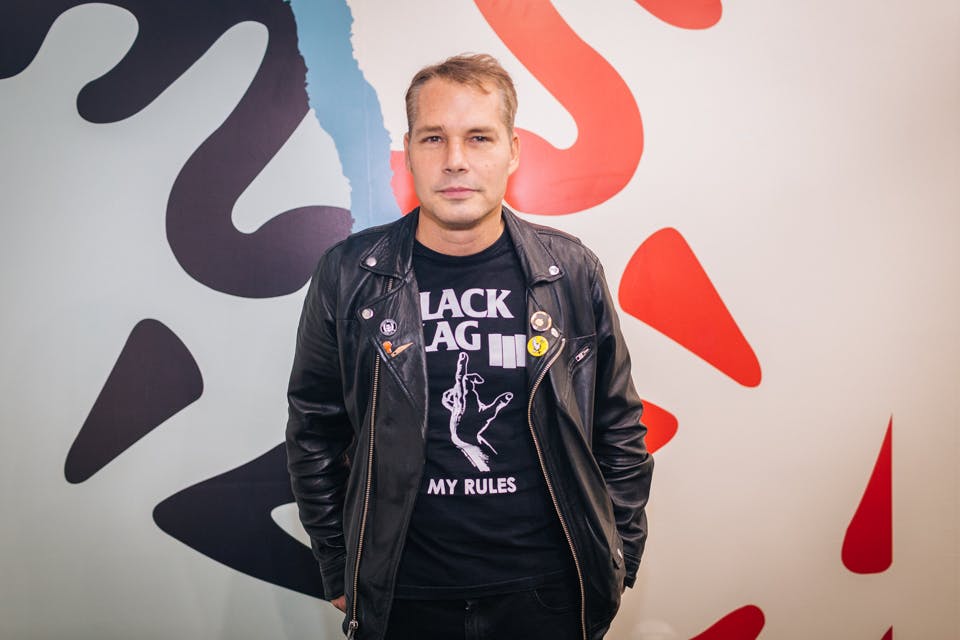 Fairey's most recent body of work is a direct reflection of a violent American society and sports identifiable elements seen in some of his infamous works like his Obama "Hope" piece. Strong primary colors mixed with the fragmented text of statistics on hot-button issues makes "DAMAGED" – the title of his last solo exhibit which was preserved digitally through the app that VRt Ventures created, a must see for not only a generation of digital activist but all of American society, young and old.
Another brainchild of Shepard's endless artistic capacity is OBEY. The timeless streetwear brand is a carefully curated representation of his philosophies. Merged by bold fonts and romanticized propaganda-style graphics, the brand has fought to bring awareness to social and political issues since its inception in 1989.
The pop-up serves as an experiential recreation of his solo show by agency ABSTRKT NYC, which allows consumers to have virtual experience equipped with VR headsets and mobile devices, made possible through his partnership with app creator VRt Ventures. This revolutionary marriage of tech and art is just a small step in Fairey's onward trajectory. Highsnobiety caught up with Fairey the day after the launch of the pop-up on his mobile app to learn more about his stance on street art, media, educating the public, and more. Scroll down and dive into the conversation.
In the past, you have donated many of the proceeds from your art to specific initiatives. As a pioneer in streetwear, what are your thoughts on the aggressive consumerism that has taken hold on this culture?
Everyone gets up and decides what they are gonna wear. That can be shallow or meaningful. I wanna use every possible platform to convey the aesthetic and the ideas in my work, and even if streetwear is largely shallow, I think there's the possibility when someone encounters my brand for that to be a gateway to my other philosophies. We do things like the OBEY awareness program, where all the profits [of a collection] go to a cause like climate change, gun control, Southern Poverty Law Center on anti-racism initiatives, etc. It's my choice to work that way because it's my philosophy. I hope I'm setting a good example.
I read some of your newspaper, The Damaged Times, and it's very heavy. You mentioned something about being "your own source of media"—could you elaborate on what you meant by that?
What I mean is, if you have hopefully done the research on an issue you care about and think how the dominant media is treating that issue is not accurate or not aligned with your philosophy you have the opportunity [to say something] through digital tools or art making, through a song — you know we can all be media creators because now the tools are at everyone's disposable to make and share things.
I choose to do that with my visual art and printing something like The Damaged Times. I also do it through my website, my Instagram, all the social media! I'm not just posting images, I'm almost always posting links to things that I think are important: a distillation of my take on that issue which could lead someone to do their own research that would shift their view.
In your quest to educate a widely misinformed public through statistics and powerful images do you genuinely feel that change is possible or do you think there needs to be a balance of corruption to fuel the subject matter in art?
I think even if things were much more utopian I would still find some things that were worth making art about. Even if it was beauty I wanted to celebrate or something that still wasn't quite perfect. I think angst is something most artists have and angst can be sort of innate to their character. Circumstantial and environmental things can fill that. I'm sort of perpetually dissatisfied no matter how things are, but I'm more driven when things are as bad as they are now.
Given that you've previously been criticized regarding your motives in the graffiti/street art world, what does authenticity mean to you?
Authenticity is being true to your beliefs. Some people think that subcultures should never engage with the mainstream, but there's a sort of natural evolutionary process. I believe in the democratization of art. As my work's embraced by the mainstream here and there I'm using my ability to infiltrate mainstream to share challenging messages with a broader audience. I'm not pandering to the lowest common denominator to find a wider audience.
What excites you about your children's generation? What concerns you the most about them?
I have two daughters, 10 and 13. What I'm considered about for the younger generation is a lot of distractions and over stimulation that maybe doesn't have much substance. That takes time away from taking a deep breath and looking at the best way to use their skill set and their philosophy in a way that's not about short-term gratification.
As a kid, without access to all this stuff, I would draw for sometimes 8 hours at a time until I realized I had low blood sugar and needed to eat [laughs]. There are so many tools of empowerment and access to information through the technology but there's also a lot of distractions at their fingertips so it's thinking about how you're gonna make the best use of what we all can take for granted now.